At last the National Library of Scotland has put Norfolk OS 25inch to 1 mile plans on its website. Currently only as individual sheets.
To get to the zoomable index page follow this link .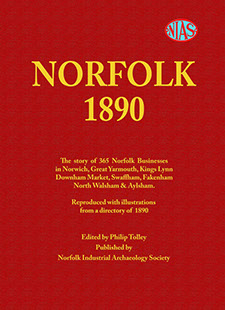 We have now published our latest book - Norfolk 1890 . This is the Norfolk part of a quite rare Norfolk and Suffolk directory, listing over 365 businesses in Norfolk with details of the history of the business, owners and management, premises occupied, what they made and sold &etc. In its production we have tried to remain true to the original in layout, though with larger text size. At 158 pages it is an invaluable picture of businesses in 1890, and the social context within which they operated.
On sale in good bookshops - all members for 2015 will receive a free copy in lieu of a Journal. If members wish additional copies they are available at a dicounted members price.