WE regret to announce that due to the Covid 19 outbreak we have suspended all organised activities of the Society.
This will be reviewed in July when things may be clearer.
We would hope to be able to resume meetings in September or October, but with the demographic profile of our membership we do not intend to hold meetings until it is safe to do so.
We were going to celebrate our 50th Anniversary with special talks and an exhibition in September, but at this stage we are unable to plan such events.
The Journal for 22020 will be printed as soon ass possible. Material for 2021 is now being collected. All members will receive the Journal.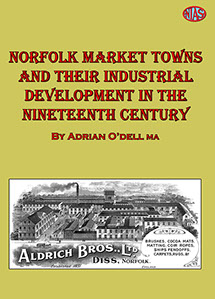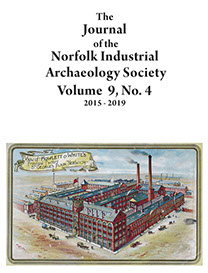 In January 2020 we published Adrian O'Dell's book Norfolk Market Towns and their Industrial Development in the Nineteenth Century. This 44 page book, printed in full colour is packed full of information about this neglected aspect of local history. The extensive references used will provide a useful link to sources which other historians will find invaluable.
A free copy is sent to all members who have paid the 2020 subscription, or is available at £10.99 for non members. (or pay £17 to join for this year and get this and other publications planned for this year at no extra cost.
In December 2019 we published Volume 9 No. 4 of The Journal of the Norfolk Industrial Archaeology Society. As well as short papers from members we included reproductions of some little known publications. Also detailed illustrated reports of our monthly meetings.
Included subjects are:
Johnson Jex Revisited, Fatal Explosion At A Norwich Brewery, The Jubilee Memorial of Messrs Howlett and White 1896, Howlett and White - An Illustrated Price List 1886, The Herring Fishery in 1901, Carrow Works - 1901 , Education In Great Yarmouth. 1901, Education in Norwich 1901 ,
A Short Record of the East Anglian Munitions Committee in The Great War 1914-1918
This publication was sent to all members as at December 2019. It is available for £17 or at a discount rate to new members.