Publications
Newsletter
To keep members informed we produce a newsletter three times a year It includes a brief report of all our meetings. Small items of general interest are included, together with a list of future meetings. Currently we are producing a printed black and white version but members may opt to have a full colour pdf version sent to them by email suitable for reading with a tablet or computer, also a version for printing out in full colour.
The newsletter editor welcomes suitable items, including news items and requests for information.
Members may also subscribe to a monthly email update, to be sent details of any meeting changes, field meetings arranged at short notice & etc.
You can read some example newsletters by clicking on the newsletter images
Journal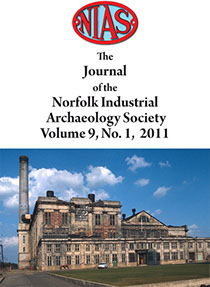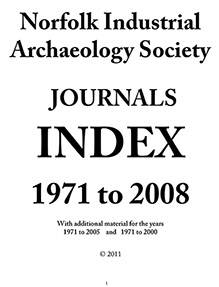 NIAS has published a Journal for 45 years recording current research into the industrial history and archaeology of Norfolk. This ensures the work carried out by The Society, its members and others working in the field is properly published as a permanent record and disseminated widely.
The Journal Editor welcomes suitable contributions.
All members receive a copy of the Journal or copies can be bought.
Back copies from about 2000, if in print, may be obtained. Please ask about availability and price. Email us using the form on the contacts page. Click on the Index image to open an index 1970-2008. Click on Journal image for selected pages preview as examples.
We occasionally produce a special publication, some based on a series of Journal papers, bringing together all we have on one topic into one publication. Others are more general publications concerning our industrial history.
In 2011 the Journal format changed. High quality images are now reproduced, some in colour. This Journal won the AIA prize for Society Journals.
The 2011, 2012, 2013/4 Journals are available priced £15, . Email us as above.
Click on cover images to open sample pages as pdf files

Other Publications
In 2013 Letheringsett - The Industrial History of a Norfolk Village by David Durst was published by the Society. This included material previously published in earlier Journals together with much additional matter, and many more photographs and drawings. It is available from Good Bookshops or direct from us, priced £15
In May 2014 we republished Volume I of the Journal, Nos 1-9 as a single publication, with additional contemporary images we were unable to print in the early 1970s. This is an invaluable source of information on some of the sites the Society recorded in the early years of the Society. Available for £15
In October 2014 The Society published a new edition of the classic book on Norwich Industries, Men Who Have Made Norwich. This A4 sized, 176 page, book covers 40 of Norwich's family businesses, the founders and later generations are dealt with. There is also a description of how the business is carried out and the processes involved. It has many rare photographs including factory interiors. This is available from Bookshops or direct from us at £18.99.
In October 2016 the Society launched Norfolk 1980. This is the Norfolk section of a selective directory of Norfolk and Suffolk. The 158 page book covers in some detail some 365 Norfolk businesses. A pdf file of the introduction, contents and sample pages can be obtained by clicking the cover image. Available from local Bookshops at £18.99, or you may order direct from us.
To purchase from us please use the contact page to email us and we will send you details of availability and costings.